Coronavirus (COVID)
COVID-19 Symptoms, Positive Test Results or Close Contact

Case management and Contact tracing efforts by public health units are focused on specific highest risk settings where the person-to-person risk of transmission is high in a vulnerable population. As a result, individuals who have COVID-19 are being asked to notify any of their close contacts that are not in a highest risk setting. If someone you have been in contact with notifies you that you are a close contact, please follow the instructions provided to you related to isolation. 

Highest risk settings include:
Acute care settings such as hospitals, including complex continuing care facilities
Congregate living settings with medically and socially vulnerable individuals, including but not limited to long-term care homes, retirement homes, First Nation elder care lodges, group homes, shelters, hospices, correctional institutions, and hospital schools
Employer-provided living settings of international Agricultural Workers
Get Tested for COVID-19
If you have a Rapid Antigen Test (RAT) at home, you can use it and follow the instructions if you have symptoms/test positive (see above).
If you do not have symptoms you should self-monitor or symptoms and self-isolate if any symptoms develop.
Communication from Public Health and Province
People who test positive on PCR or rapid molecular tests may be contacted by public health or the provincial case and contact management team. You may receive either a text message, a call, or both in some cases. If you receive a text message from Hamilton Public Health Services or the Ontario Ministry of Health, please do not delete it. It is not a scam.
The text message may include:

A secure link to complete a personal assessment form. The form is voluntary and will take about 10 minutes to complete. All information collected through the tool is kept confidential and protected by Ontario's health laws. It will only be used for public health purposes. After you complete the form, you may receive a call to confirm the information you submitted.
A text with a link to instructions on how long you and your household members need to self-isolate and what you need to do to help prevent further virus spread.

You can opt out by texting STOP. Please do not reply to these text messages.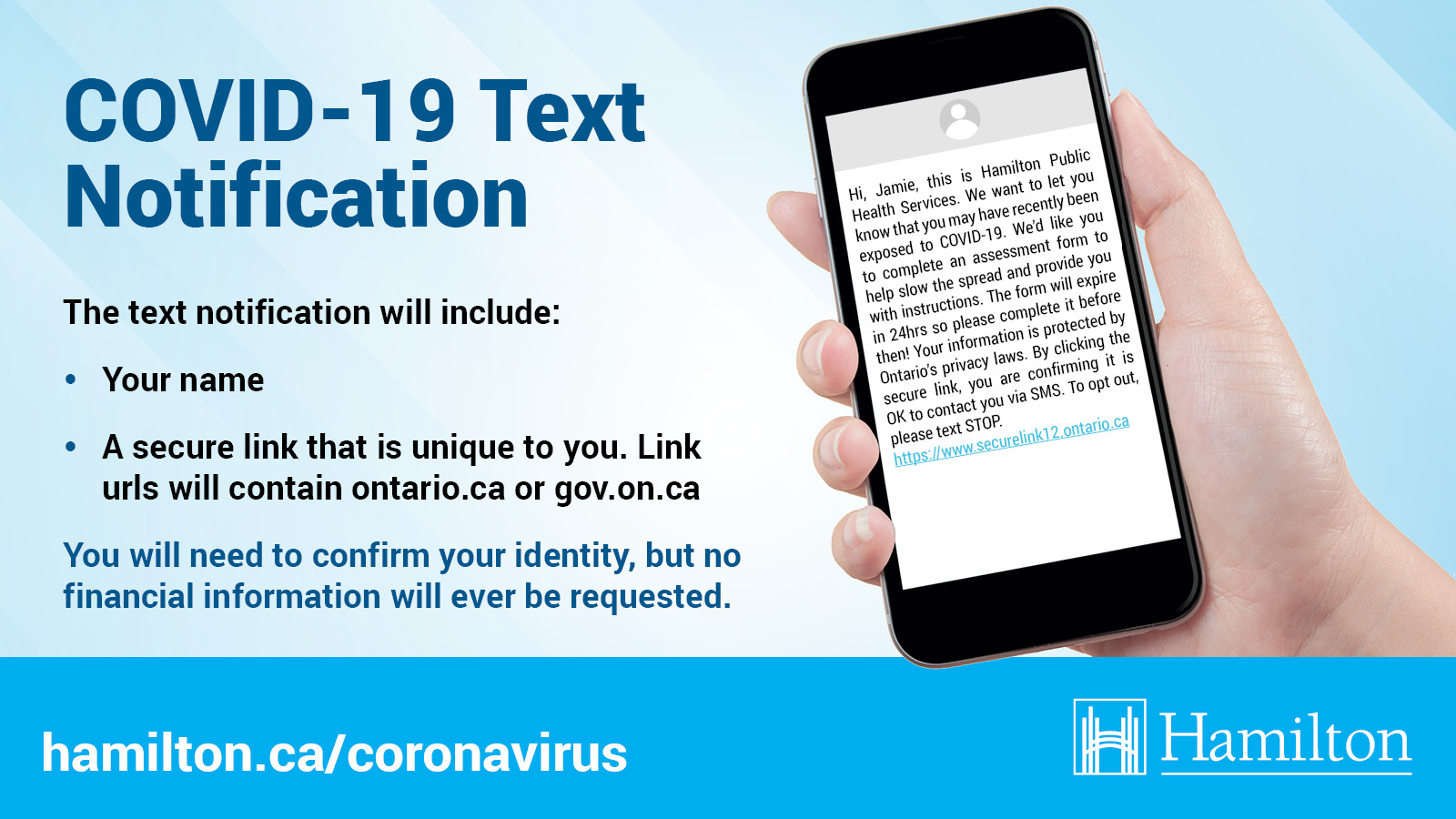 Date modified
September 22, 2022