Water Outreach & Education
Children's Water Festival

Children's Water Festival
Feedback Survey
Please take a moment after you have used the water festival activities to let us know what you thought by completing our quick survey. Your feedback helps us make our programs better.
The Hamilton Children's Water Festival in 2022 will take place virtually and is an opportunity to educate students about the importance of water conservation, protection, awareness, respect, science technology, history and health. Teachers can sign up to receive a package containing class activities based on activities usually found at the Hamilton Children's Water Festival. Each activity is based on the Ontario Curriculum and are provided by our close community partners such as Green Venture, the Royal Botanical Gardens, the City of Hamilton, McMaster University and many more!
Who: Grade 4 Teachers and their students
What: Hamilton Children's Water Festival
Where: In your class and playground
When: May 2022
Why: To give students a new respect for water and the environment as well as make them aware of local water issues.
This is a free event
The ultimate goal is to foster decision-makers, initiate the process of behavioural change, to empower children to initiate change within their homes, schools and communities, and to encourage children to become catalysts for change by taking information and new found respect back to their own environment.
H20 Puppet Shows
Provided by: Hamilton Water and Byron Morton (Master Puppeteer)
Description: Watch as our furry friends from the Hamilton Harbour get together to put on a very entertaining and educational show. Join in the fun as the zany cast of characters sing and dance to original songs that they have written themselves. Great music, great puppets and a great message make this show a must-see event. 
Wild Water Quality at RGB
Provided by: Royal Botanical Gardens
Description: All life depends on water, especially the plants and animals that live in Royal Botanical Gardens' wetlands. How do we know if our marshes and ponds have healthy water? Through this activity, students will learn about ways RBG's ecologists monitor water quality and how aquatic invertebrates can tell us if water is healthy. Using a dichotomous key, students will explore and identify aquatic invertebrates found at RBG and, using what they learned in this activity, students will discuss the water quality of different ponds based on aquatic invertebrates counts.
Water Footprint: Jeopardy
Provided by: Green Venture
Description: How much do you think about water? In this activity students will answer questions about water in a Jeopardy-style game. Categories include "Unbottle It", "Water in the House", "Hidden Water Use", "Made of Water", "Water Worlds", and "Water's for Dinner".
Only Rain Down the Drain
Provided by: City of Hamilton - Hamilton Water – Compliance and Regulation
Description: Students will learn that a catch basin leads to the natural environment and only rain water or snow can go into a catch basin. We will discuss what happens when common household products are disposed of in the incorrect location. This could lead to pollution in our water and have a negative impact on our fish and plant life. For example, paints cleaners, gasoline cannot go to a catch basin and should be taken to a Community Recycling Centre. 
Who Lives Where?
Provided by: Hamilton Industrial Environmental Association (HIEA)
Description: This activity deals with the different types of wetland habitats. Through an activity book, students will discover the many different types of wetlands, their unique characteristics and their different inhabitants.
Water Treatment Plant
Provided by: City of Hamilton - Hamilton Water – Plant Operations
Description: The water treatment plant produces the clean tap water that is used by hundreds of thousands of people across Hamilton but only a fraction of those people knows how the water treatment plant works! This activity provides an informative video that explains the processes used to treat water from Lake Ontario to ensure it is safe for everyone to drink. After learning about the treatment plant, students can compete against each other using their new-found knowledge in fun and entertaining games on Blooklet.com!
A Drop in the Bucket
Provided by: City of Hamilton - Hamilton Water – Plant Operations
Description: A discussion and illustration of the water sources on our planet that are fresh-water and those that are salt-water; illustrating that fresh-water is a limited resource. The discussion is based within a Story Map – students can navigate around and find facts about our Water sources here in the City. This is followed by an interactive online quiz game!
Osprey Survivor
Provided by: Hamilton Naturalists' Club / Brinkman Group
Description: Students will investigate how Osprey (also known as seahawk, fish hawk or fish eagle), a fish-eating bird of prey, feed themselves and their young. Students will also find out how pollutants affect Osprey and how they can help keep the Osprey's food source pollutant free. Students are split into teams and try to 'catch fish' by running to the 'pond', returning with a fish to the 'nest' within the required time. Upon their return and when all fish are gone, each team will calculate the healthiness of their catch based on the quality of fish they have caught.
Own Your Throne
Provided by: City of Hamilton - Hamilton Water – Customer Service and Community Outreach
Description: This activity will educate students on the impact they have on the City's sewer system and Hamilton Harbour. Students will learn about the connection between their actions at home and how they affect the water in the harbour. Students will see what is and isn't allowed to be flushed down the toilet by watching their favourite heroes - Richard the Turd, Sir Peeter and the Duchess of Swirl - take care of the evil "unflushables". Students can then play the Own Your Throne online game to try and get a high score!
Wastewater Treatment Plant
Provided by: City of Hamilton - Hamilton Water – Plant Operations
Description: We flush our toilet and put water down the drain and never think of where it goes.  Once you flush the toilet the water and sewage go through the sewer lines under the streets to the treatment plant. Here, it is processed and cleaned.  Watch a video of our wastewater treatment plant that shows the treatment processes and then take a look behind the scenes on a self-guided tour of the plant!
Trip of a Drip
Provided by: The Hamilton Museum of Steam and Technology
Description: How do we get running water into our homes? When we turn on a tap, flush a toilet, or take a bath, where does the water come from?
Waterfront Trolley Ride
Provided by: Hamilton Waterfront Trust
Description: This activity will take the class on a tour of Bayfront Park. Using a 360o camera, a member from the Fish and Wildlife Restoration Program will provide commentary that will educate students on life in the harbour. This activity will allow students the chance to see the revitalization that has taken place along the waterfront.
A World in a Puddle
Provided by: Green Venture
Description: Ecosystems, big and small, can be found everywhere! Students will spend some time outdoors and will be encouraged to rethink their perspectives on nature and ecosystems by looking for signs of life on the school grounds. They will consider the impact of the built environment (school building, pavement, etc) on water and other resources that support ecosystems.
Children's Water Festival
Registration Information
To register, email your class information to Robert.Richarz@hamilton.ca. Please include your school name, number of students and indicate that you wish to take part in the 2022 Hamilton Children's Water Festival. By registering, you will receive the 2022 Hamilton Children's Water Festival Package by email as soon as it is available. The package will also be available for download on this page.
Children's Water Festival
Logo Design Contest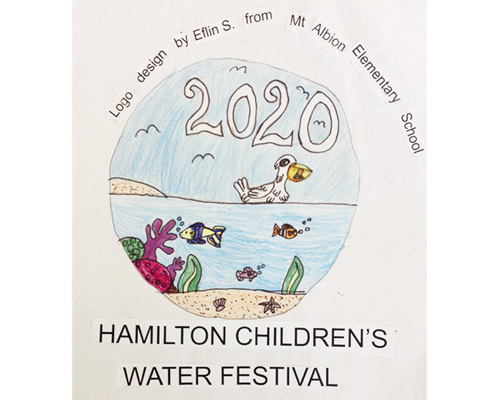 2020 Winner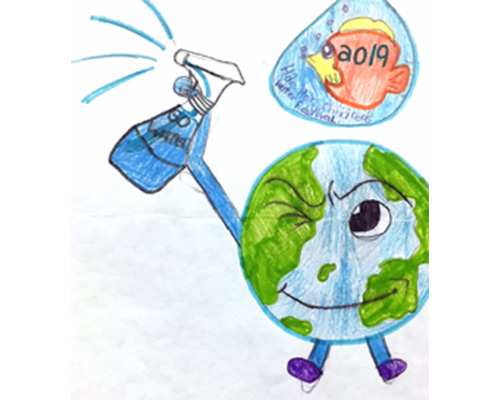 2019 Winner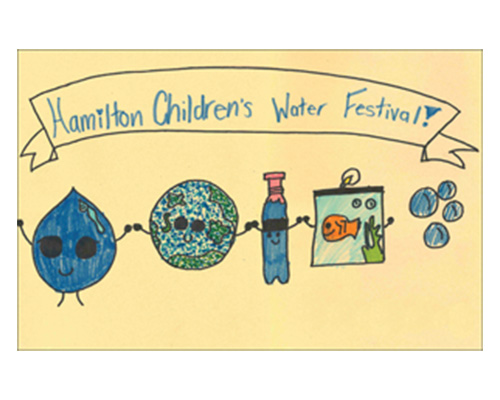 2018 Co-Winner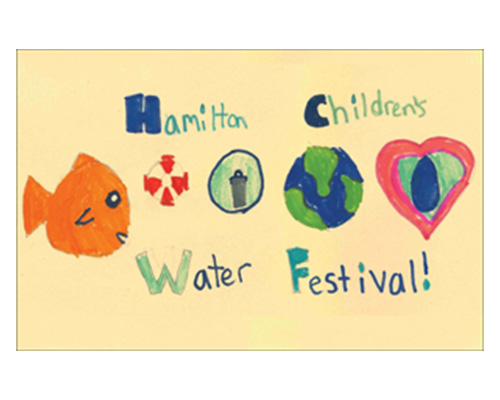 2018 Co-Winner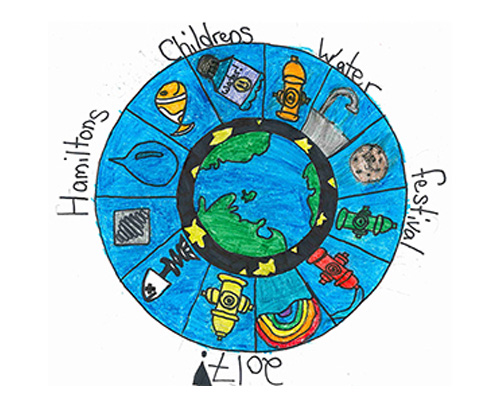 2017 Winner
Date modified
September 19, 2022